Stung
2015, Horror/Comedy, 1h 27m
16 Reviews
250+ Ratings
You might also like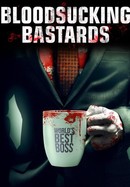 Rate And Review
Movie Info
Chaos strikes at a fancy garden party when killer wasps mutate into 7-foot-tall predators and go on a grisly rampage.
Audience Reviews for Stung
Not a half bad creature feature that, obviously, embraces a sillier approach due to it focusing on killer fucking wasps. What I liked about this movie is the fact that there's a mixture of practical special effects and CGi. The CGi was, obviously, used for stuff that couldn't have been done practically, like the fucking gigantic wasp that's on fire following our heroes, who are trying to escape in their van. Clearly that required CGi, but a lot of the gore and the monster effects are practical and this is where the movie truly shines, honestly. The effects are pretty top-notch and it hearkens back to a time that's long gone that I, honestly, wish we saw more of. I know practical effects are far more expensive in the long run, particularly if it's something that requires a lot of make-up being added, if you're using actors to portray monsters, for example. It takes a lot of work to put on that make-up on every day for something that might see, maybe, two minutes of screen time. So I get that it's cost effective to use CG, but it's so much more satisfying to watch when it's actually something practical, like in this movie. Again it's a mix and match here, and that works best, in my opinion. The film also has a pretty strong cast. Matt O'Leary is a good actor and he has good chemistry with Jessica Cook, who I haven't seen before, but she does a good job here as well. Rounding out the film are experienced character actors in Lance Henriksen and Clifton Collins Jr. and they're always good, so no complaints there. So, with some excellent gore and good actors involved, you'd think that this would lead to a good horror movie? Well, you would be wrong. It's not that it isn't close to being good, it just doesn't quite get there. The film isn't really that long at all, but the pacing would have you believe otherwise. Not that there's filler, I just think that the movie is spinning its wheels for a lot of it before the killer wasps come into play. And it's not like the movie lets up after the wasps come in and start killing anybody. There's moments of dead air here that really drag the movie down a bit. The romance between Julia and Paul, to me, doesn't really feel earned honestly. It just feels incredibly forced in there. Like I can see how some would think it might work, and parts of it do due to the chemistry between Matt and Jessica as actors, but it just feels like tacked on so the characters don't end up feeling as one-dimensional as they are. I mean they're still one-dimensional, but at least there's something going on there, rather than just 'kill all the wasps'. I honestly prefer the subplot where Paul feels like he's nothing more than an employee to Julia, as opposed to someone whose help and contributions she values. That's more interesting as far as actually developing a character. But I guess a hot woman and a not half bad looking guy getting together is more casually pleasing. The romance subplot, honestly, doesn't bother me as much as the poor pacing did, I just pointed it out cause it was still something I had a problem with, but the pacing is the worst part of the film, by far. Which is a shame, because this had all the ingredients to make for a good B-movie that's not ashamed to be one. It's almost good, ALMOST. Not quite. This is as close to good as a horror film can be without actually being good. Though since I watched it on Netflix, there's not much harm done, and I'd actually recommend it, despite not being good, if you're subscribed to Netflix. If not, then exercise some caution. Good moments here, but they're let down by the poor pacing.
Quotes
There are no approved quotes yet for this movie.